Company:                   Westmoreland Coal Company
Site:                              Estevan Mine
Location:                     Estevan, Saskatchewan, Canada
Resource Type:          Coal
Estevan mine, formerly known as Boundary Dam mine, is an open pit coal operation in Saskatchewan, Canada. Operating a fleet of various trailer haulers and loaders, the mine has invested heavily in Fleet Management System (FMS) technology to monitor the health and productivity of their fleet. This advanced system amongst its many attributes gathers data from different sources and stores it in a central database. When effectively analyzed and presented, it provides an excellent tool for measuring and benchmarking a site's productivity.
Mine Tech Services were contracted by Westmoreland Coal to assist Estevan Mine in tapping further into this rich data source as well as carrying out some critical reporting upgrades.
Two specific requirements were identified:
1) Establish an easy way to benchmark how well the mine was utilising their FMS Assignment functionality.
2) Upgrade and enhance existing maintenance KPI reports.
Benchmarking Unlocked Assignment and it's impact on Mine Production Requirements
Running 'unlocked assignments' can significantly boost a mine's productivity. Typically moving from a locked (where a truck is tied to a loading tool) to an unlocked environment can increase shift tonnes from 10-40%. Once a mine 'goes unlocked' however, it is vital that the system is monitored for problems and areas where further production can be realised.
Estevan mine therefore requested that some form of report was built to establish benchmarks, compare how well their system was being utilised and if they were reaching specific production requirements. After consultation with Ashley Wallster, the site's FMS Administrator, it was suggested that an SAP Business Objects report would be written to monitor each shift on the following KPIs:
Number of unlocked vs. locked assignments – this forms a crude but effective method of determining how 'free' the trucks are to be given the most productive assignments.
Training Issues – can have a significant impact on the effectiveness of unlocked assignments. Operators not following assignments and/or the system not being fully updated with the latest mine parameters can have an adverse effect on performance. A second tab was therefore added that would benchmark both of these potential issues with the aim to flag them before they become major.
Production Goals – keyed into FMS are an excellent way of ensuring shift requirements are met (i.e. X tonnes of Material Y must go to Stockpile B). A tab was added in the report to benchmark requirements against actual. This section of the report is demonstrated in the screenshot below.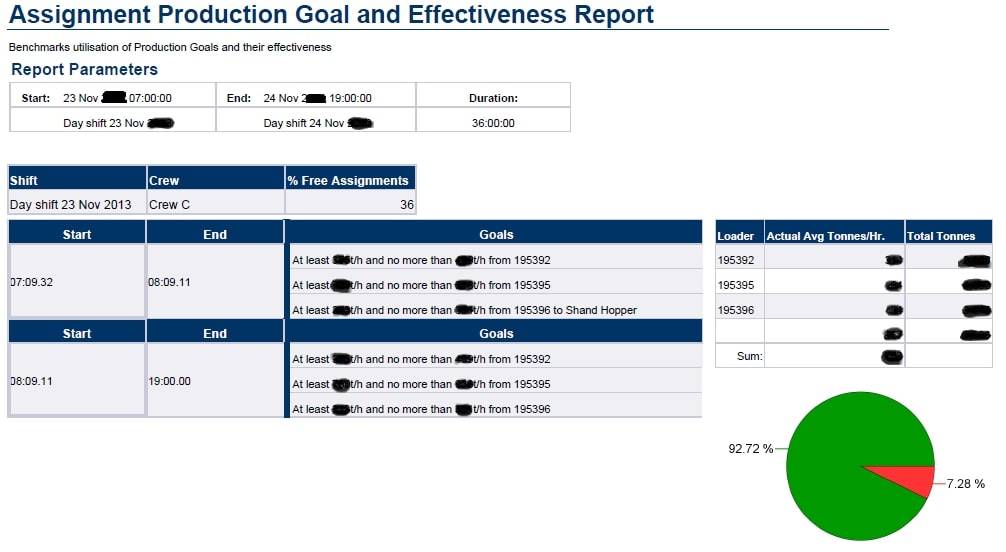 The completed report was presented in an easy to read PDF format, and scheduled to sent on a daily basis to key stakeholders.
Tabs on the left-hand side of the screen (below image) enable a user to quickly get to each of the sections:
Summary
– Free Assignments vs. Productivity
– Off course Assignments by Operator
– Off course Assignments by Waypoint
– Loader detail
– Assignment detail
An important part of managing a fleet management system is ensuring that end reporting is always delivered via a reliable and up to date platform. In preparation for a system upgrade, Estevan Mine had a suite of legacy Business Objects Desktop Intelligence reports that required migrating to the newer Web Intelligence platform. This task was carried out over a two day period by Mine Tech Services. In addition to reports now being able to run on the newer BI platform, they had their look refreshed to include appropriate alerts, improved table formatting and a quicker data query time.
"Mine Tech Services delivered on all fronts, they gave us what we asked for in the time frame that we requested.  This is all we can ask for and allows us to concentrate on the mining side of things and improving our bottom line.
With the addition of the new assignment report it allows us measure whether or not our MineStar foreman are utilizing open assignment and production targets and were the targets that they were setting achievable.  Also it allows the MineStar foreman to easily identify areas of concern with either operators or mine model issues with the off course stats.
Using advanced features of MineStar has large potential for increasing production and or efficiencies at the mine but also we need to know that the goals that we are putting out there are achievable and if they aren't we need to know why.  With the addition of this report it allows us to see what they MineStar foreman did with their goals during the shift.  This is something that was not easily visible in the past.
The updating process that we had completed on out older reports to the new webi format allowed us to continue on business as usual with our existing reports as we migrated forward with the software."
We are here to assist. Contact us by phone, email or Skype.